SP6018E-Synchronous Rectifier Driver

DataSheet
DESCRIPTION
The fundamental of SP6018C synchronous
rectifier (SR) driver IC is based on our U.S.
patented methods that utilize the principle of
"prediction" logic circuit. The IC deliberates
previous cycle timing to control the SR in
present cycle by "predictive" algorithm that
makes adjustments to the turn-off time, in order
to achieve maximum efficiency and avoid crossconduction at the same time. Specially,
SP6018C is designed for Resonance. It also
maintains the MOSFET's body diode conduction
at minimum level. The SP6018C is capable to
adapt in almost all existing Resonance
converters with few adjustments considered
necessary.
FEATURES
 Offers efficiency improvement over Schottky
Diode (depends on drive configuration of the
SR).
 Drives all logic level Power MOSFET.
 Prediction gate timing control.
 Minimum MOSFET body diode conduction.
 Operating frequency up to 400 KHz.
 Synchronize to transformer secondary voltage waveform.
APPLICATIONS
 Servers & workstations
 Storage area network power supplies
 Telecommunicationconverters
 Embeddedsystems
 Industrial & commercial systems using high current processors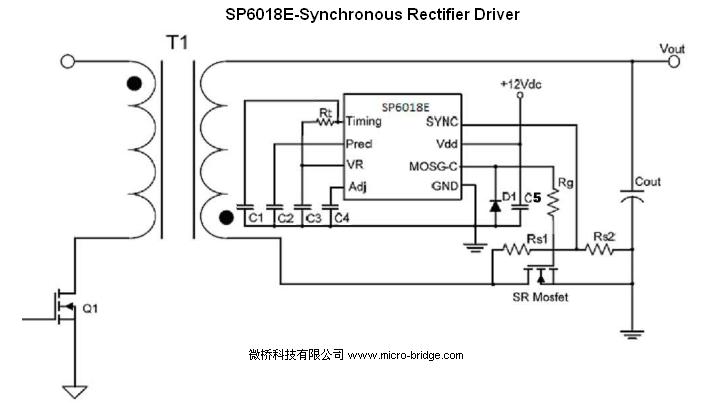 Syncpower(擎力)

Synchronous Rectify Controller(同步整流) IC